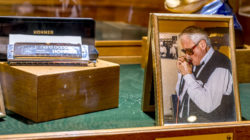 Baron Jean-Baptiste Thielemans (1922 – 2016), beter bekend als Toots Thielemans, was een Belgisch-Amerikaanse jazzmuzikant. Hij werd beroemd door zijn mondharmonica- en gitaarspel en zijn talent als componist. Hij was ook een begenadigde fluiter. Zijn belangrijkste verdienste was dat hij opkwam voor de nederige mondharmonica en ze tot een volwaardige stem in de jazz verhief. Uiteindelijk werd hij de meest invloedrijke jazz-mondharmonicaspeler.
In de jaren 1970 en 1980 bleef hij toeren en platen opnemen. Hij werkte samen met muzikanten zoals Oscar Peterson, Bill Evans, Dizzy Gillespie, Kenny Werner, Pat Metheny, Jaco Pastorius, Elis Regina en Paquito D'Rivera.
In 2009 werd hij door de National Endowment for the Arts uitgeroepen tot Jazz Master, de hoogste onderscheiding voor een jazzmuzikant in de VS.
Toots maakt deel uit van de Léon-familie. Hij vergezelde ons meermaals bij openingen van Léon de Bruxelles en gaf ons zijn mondharmonica als geschenk, met een briefje ter attentie van mijnheer Rudy (vijfde generatie). Hij heeft trouwens ook een naamplaatje in ons etablissement.
De wafel
9 juli 2021
De Brusselse wafel is een grote wafel, gemaakt van licht beslag, met grote vierkanten en diepe gaten. Ze wordt vaak (warm of koud) gegeten met slagroom, suiker, zacht fruit, chocoladepasta,...
View Article
Lees meer
Adolphe Sax
9 juli 2021
De saxofoon (kortweg sax) wordt bij de houtblaasinstrumenten gerekend. Saxofoons zijn meestal gemaakt van koper en worden bespeeld via een enkelrietmondstuk, vergelijkbaar met dat van een klarinet. Net als de...
View Article
Lees meer