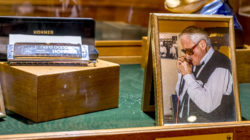 Jean-Baptiste, Baron Thielemans (1922 – 2016), known professionally as Toots Thielemans, was a Belgian-American jazz musician. He was known for his harmonica and guitar playing, as well as his whistling skills and composing. His most important contribution was championing the humble harmonica, which he made "a legitimate voice in jazz". He eventually became the world's preeminent jazz harmonica player.
In the 1970s and 1980s, he continued touring and recording, appearing with musicians such Oscar Peterson, Bill Evans, Dizzy Gillespie, Kenny Werner, Pat Metheny, Jaco Pastorius, Elis Regina and Paquito D'Rivera.
In 2009, he was designated a Jazz Master by the National Endowment for the Arts, the highest honour for a jazz musician in the USA.
Toots was a member of the Léon family. He often played at our restaurant openings and gave his harmonica to Mr Rudy (the fifth generation) with a personal note. Indeed, he has a plaque in his name at our restaurant.