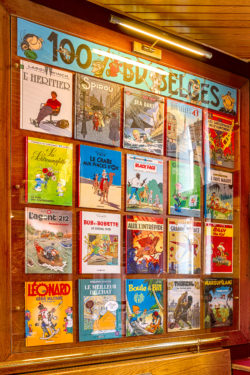 Belgische strips bekleden een bijzondere plaats in de geschiedenis van het beeldverhaal. Ze speelden een belangrijke rol in de ontwikkeling van de Europese strips, naast Frankrijk, het land waarmee ze een lange geschiedenis delen.
Hoewel de beeldverhalen in de twee grote landsdelen en regio's (Vlaanderen en Wallonië) elk hun eigen typische kenmerken hebben, beïnvloeden ze elkaar constant. Ze vinden elkaar trouwens in Brussel en bij de grote uitgevers is er een lange traditie van tweetalige publicaties. Als een van de weinige kunstvormen waarop België een blijvende internationale impact heeft gehad in de twintigste eeuw, zijn strips niet meer weg te denken uit de cultuur van het land.
Bij Léon beslisten we de schijnwerper te richten op de beeldverhalen uit onze kinderjaren, of tenminste op de meest emblematische werken van de Belgische stripcultuur, zoals: Largo Winch, Agent 212, Robbedoes, Bollie en Billie, Lucky Luke, Thorgal, Leonard …
De wafel
9 juli 2021
De Brusselse wafel is een grote wafel, gemaakt van licht beslag, met grote vierkanten en diepe gaten. Ze wordt vaak (warm of koud) gegeten met slagroom, suiker, zacht fruit, chocoladepasta,...
View Article
Lees meer
Jean-Claude Van Damme
16 juli 2021
Jean-Claude Van Varenberg (geboren op 18 oktober 1960), pseudoniem Jean-Claude Van Damme of kortweg JCVD, is een Belgisch acteur, vechtsporter, scenarioschrijver, filmproducent en regisseur. Hij is vooral bekend voor zijn...
View Article
Lees meer
Jean Luc Dehaene
9 juli 2021
Mijnheer Rudy en Jean-Luc Dehaene gingen naar dezelfde school op 500 m van het restaurant: het Sint-Jozefsinstituut. Mijnheer Dehaene was jarenlang een trouwe klant van LEON.
Lees meer