De saxofoon (kortweg sax) wordt bij de houtblaasinstrumenten gerekend.
Saxofoons zijn meestal gemaakt van koper en worden bespeeld via een enkelrietmondstuk, vergelijkbaar met dat van een klarinet. Net als de klarinet zijn saxofoons voorzien van openingen die de speler afsluit met een kleppensysteem. Wanneer de saxofonist een klep indrukt, wordt een gat afgesloten of vrijgemaakt, waardoor de toon respectievelijk lager of hoger wordt. De saxofoonfamilie werd in 1840 uitgevonden door de Belgische instrumentenbouwer Adolphe Sax.
Bij Léon brengen we hem een humoristisch eerbetoon via onze mascotte: 'Léon de Mossel' op saxofoon werd ons door Richard Fournaux, burgemeester van Dinant, aangeboden bij de opening van het restaurant CHEZ LEON in zijn stad.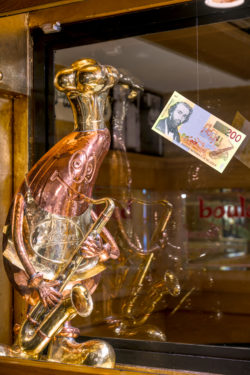 Annie Cordy
9 juli 2021
Barones Léonie Cooreman, bekend onder de artiestennaam Annie Cordy (1928 – 2020), was een Belgische actrice en zangeres. Vanaf 1954 speelde ze in 50 films. Ze gaf vele onvergetelijke concerten...
View Article
Lees meer
Smurfen
9 augustus 2021
De Smurfen is een Belgische stripreeks, bedacht door tekenaar Peyo, die geboren werd in 1928 en overleed in 1992. Smurfen zijn kleine, blauwe, mensachtige schepsels in witte kleren die allemaal...
View Article
Lees meer