Frieten, of in staafjes gesneden gefrituurde aardappelen, bestaan in allerlei maten, van pommes Pont Neuf tot luciferaardappelen. Ze zijn heel populair in België, waar ze waarschijnlijk hun oorsprong vinden. De oudste sporen van de bereidingswijze komen uit het boek "Curiosités de la table dans les Pays-Bas-Belgiques" uit 1781, waarin wordt beschreven hoe inwoners sinds ongeveer 1680 gebakken aardappelen hadden gegeten. In de Verenigde Staten zijn ze vooral bekend als 'French fries'. Wellicht een misvatting, want volgens de overlevering zouden Amerikaanse soldaten tijdens de Eerste Wereldoorlog verkeerdelijk hebben geloofd dat ze het gerecht in Frankrijk hadden gegeten.
In België worden frieten verkocht aan fastfoodkramen of in specifieke fastfoodrestaurants die friterie, frietkot of frituur worden genoemd. Ze worden vaak met allerlei sauzen geserveerd en op zichzelf of met andere snacks gegeten. Traditioneel worden ze in een witte kartonnen puntzak geschept en vervolgens in een vel papier gewikkeld, met de saus erbovenop.
Bij Léon verkiezen wij brede frieten, twee keer in ossenwit gebakken, het eerste baksel op 150° om de aardappelen te garen en het tweede op 180° om ze een goudgeel korstje te geven.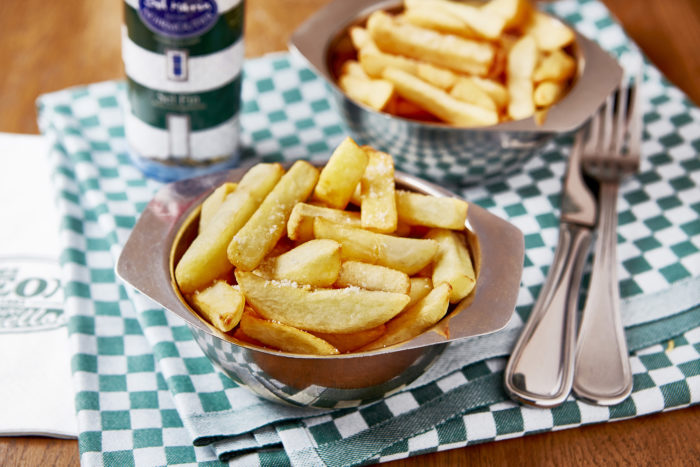 René Magritte
9 juli 2021
René François Ghislain Magritte, geboren in 1898 en overleden in 1967, was een Belgische surrealistische kunstenaar. Hij staat bekend om een reeks gevatte en tot nadenken stemmende beelden. In zijn...
View Article
Lees meer
Theater Toone
9 juli 2021
Theater Toone zag het licht in 1830 toen Antoine 'Toone' Genty het eerste traditionele poppentheater opende. Een poppentheater voor volwassenen, uniek in de wereld, op een boogscheut van het mooiste...
View Article
Lees meer