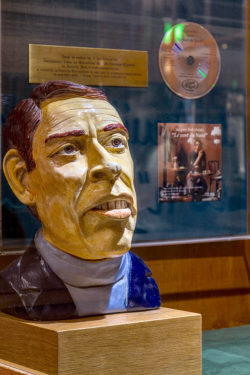 Jacques Romain Georges Brel, born 1929, died 1978, was a Belgian singer, songwriter, actor and director who composed and performed literate, thoughtful, theatrical songs that generated a large, devoted following – initially in Belgium and France, later throughout the world. He was widely considered a master of the modern chanson and sold over 25 million records worldwide.
When his health began to fail due to cancer, he decided to live in the Marquesas Islands.
He died of a pulmonary embolism on 9 October 1978 at the age of 49.
For the first and only time in its history, the Brel Foundation agreed to collaborate with a commercial undertaking: "Chez Léon".
The opening of the Léon restaurant on the Champs-Elysées was entirely Brel-themed: the invitation, a film of his last concert at the Paris Olympia, and above all a special 3000-copy numbered edition of a CD with logo issued by the Brel family for the Vanlancker family.