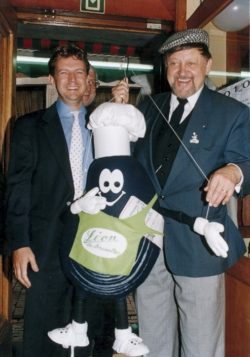 The first traditional puppet theatre, the Toone Theatre was opened in 1830 by Antoine "Toone" Genty.
This unique theatre presents puppet shows for adults a stone's throw from the world's most beautiful square, the Grand-Place. Nowadays, they can be viewed in several languages.
Today, Nicolas Géal and his team of six puppeteers adapt famous plays and shows, from Romeo and Juliet to Dracula, Faust and Carmen.
Mr Géal, a seventh-generation puppet-master, did us the very great honour of gifting us a Harlequin puppet.
To celebrate our restaurant's centenary, we had a puppet made of our mascot Léon de la Moule.