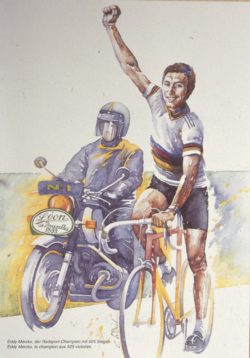 Edouard Louis Joseph, Baron Merckx (born 17 June 1945), better known as Eddy Merckx, is a Belgian former professional road and track bicycle racer who is widely seen as the most successful rider in the history of competitive cycling.
His victories include an unequalled eleven Grand Tours (5 Tours of France, 5 Tours of Italy, 1 Tour of Spain), 31 Classics including 19 in the five Monuments, 3 World Championships, the Hour Record, every major one-day races, and extensive victories on the track.
He was nicknamed "The Cannibal" due to his unwillingness to let anyone else win.
Merckx achieved 525 victories over his eighteen-year career.
This Belgian hero definitely has a place in Léon's heart. He was our sponsor for the opening of "Léon de Bruxelles" in Düsseldorf, and his portrait was also on the invitation.