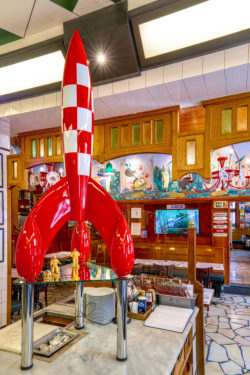 The Adventures of Tintin is a series of 24 comic albums created by Belgian cartoonist Georges Remi, who wrote under the pen name Hergé. The series was one of the most popular European comics of the 20th century. By 2007, a century after Hergé's birth in 1907, Tintin had been published in over 70 languages with sales of over 200 million copies, and had been adapted for radio, television, theatre and film.
The series has been admired for its clean, expressive drawings in Hergé's signature "clear line" style. Its well-researched plots straddle a variety of genres: swashbuckling adventures with elements of fantasy, mysteries, political thrillers and science fiction. The stories feature slapstick humour, offset by dashes of sophisticated satire and political or cultural commentary.
The Vanlancker family are great Hergé fans, which is why we display the rocket from Destination Moon and Explorers on the Moon at the entrance of our restaurant. You can't miss it!